View all posts
8 Reasons You Should Choose GBank
01/24/2022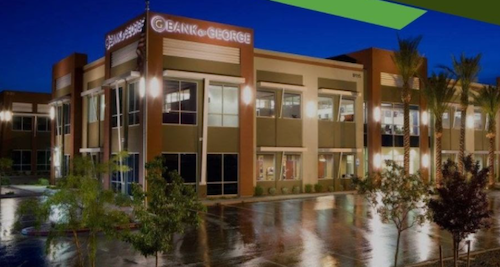 Although the past few years have produced a great deal of uncertainty, we stay dedicated at GBank to your growth and security. When we started our journey in 2007, we dared to hope for great things — and our vision has become a reality. Because of our team's dedication to our vision, we have received seven awards that display our devotion to your success. Learn more about these accomplishments and why you should trust us to provide Your Best Banking Experience, Ever!®
1. 5 Star Rated Bank by Bauer Financial
We pledge ourselves to professionalism, so it is an honor to be recognized as a superior banking institution by Bauer Financial. Bauer Financial brings peace of mind to bankers and customers by compiling recent data to rate financial institutions. We are proud to be a 5-star bank that customers can trust.
2. Top 3 Best Performing Banks in the U.S. By S&P
In 2018, GBank was ranked 2nd in the S&P Global Market Intelligence's top 100 U.S. community banks in our division. Why? We work hard to lead the industry with integrity and high standards for our accounts. The following two awards illustrate a few of these values:
3. Top Community Investing Bank in Las Vegas 2021
We prioritize empowering organizations in the Las Vegas Valley. Mighty, a platform dedicated to banking transparency, ranked us a top community investing bank in Las Vegas. We have great respect for our local businesses, which is why we proudly offer flexible business loans.
4. Top SBA 7(a) Lender by Volume in the U.S 2020
Part of supporting businesses is financial opportunity. In small company lending, SBA loans are essential. They are a tool for transforming big dreams and ideas into successful institutions. We're happy to be a top lender who aids companies in taking major steps toward their goals, which leads us to our next award.
5. GBank as #1 Bank in Our Tier by CB Resource, INC. Risk Management & Planning
Your success is our priority. We help companies' grow based on intelligent risk management and planning. We carefully designed our loan programs to meet the needs of expanding businesses.
6. Best of Las Vegas 2021 Winner, Silver in Best Bank
We are excited to receive the silver title in the 'Best Bank' category. Thanks to all the locals who voted in the Las Vegas valley, we are honored to receive this outstanding award.
7. 2021 Sheltered Harbor Protected Certification
This accomplishment leads to the next value we honor; business security. When catastrophic data breaches are a constant threat, having data protection and recovery standards is vital. GBank makes your safety a priority and is one of the first banks in 2021 to achieve a Sheltered Harbor Protected Certification.
These accomplishments reflect GBank's core values, and it is with great happiness and joy that we have been recognized for it. To quote the namesake of our bank, George Washington, "Happiness and moral duty are inseparably connected." To learn more about us, click here or contact us. We also have two local branches, so come in soon to learn how we can raise your business to new levels of success.

8. 2021 Top Employer Partners by Virtual Vocations
Despite the many hurdles that 2021 brought, we remained committed to providing remote opportunities to job seekers. That is why we were named one of Virtual Vocations' Top Employer Partners. Our innovative approach to the shifting job market demonstrates our dedication to clients and staff.